Better communication
Meeting in person, online, both? Either way, digital bulletins are the best way to get everyone the info they need.
Save time & money
Update your bulletin each week in 10 minutes or less! Plus, there's no more printing, folding, and waste.
Instant updates
Changes can be made to your bulletin at any time, and they're updated instantly for everyone.
Sharing
Share just in time for service, send as a weekly newsletter or get creative with something new!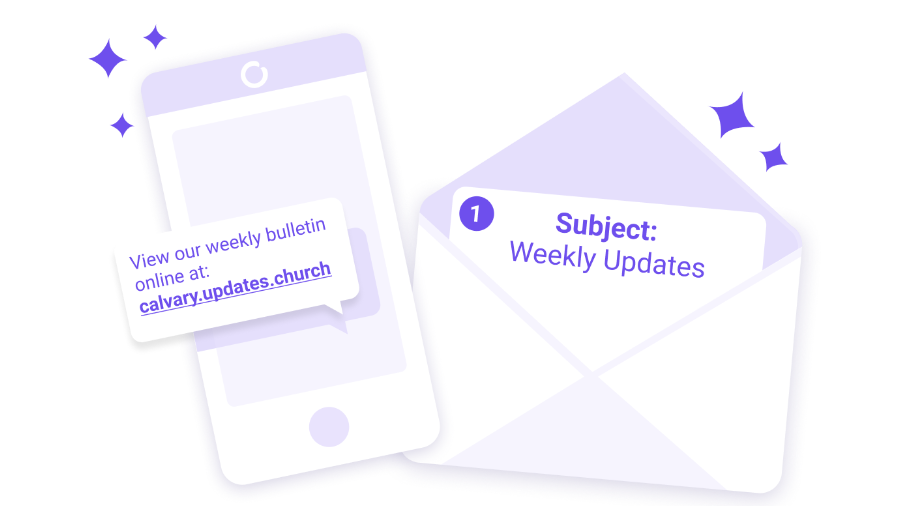 Email or text your link
Send through your favorite communication tool. Keep everyone in the loop with one link that never changes.
Share in person with QR code
Church attenders can access your bulletin in seconds. Get creative with where you display!
How It Works
Add your content, set a date, share your bulletin!
With Loop, you can provide announcements, event information, digital connect card, and more in a digital format that's easy for people to access no matter where they are. Your church will have a personalized link to your digital bulletin that stays the same, so there's no need to worry about sending your church attenders a new link each week.

Once you add content, you can easily publish it the same day or schedule it to publish on a future date. Any updates you make to your current bulletin are made instantly, so your church will always have the latest information. Best of all, there's no need for church attenders to download an app to read your bulletin, making it easy for visitors to access.
Features
Customize your bulletin to fit your church!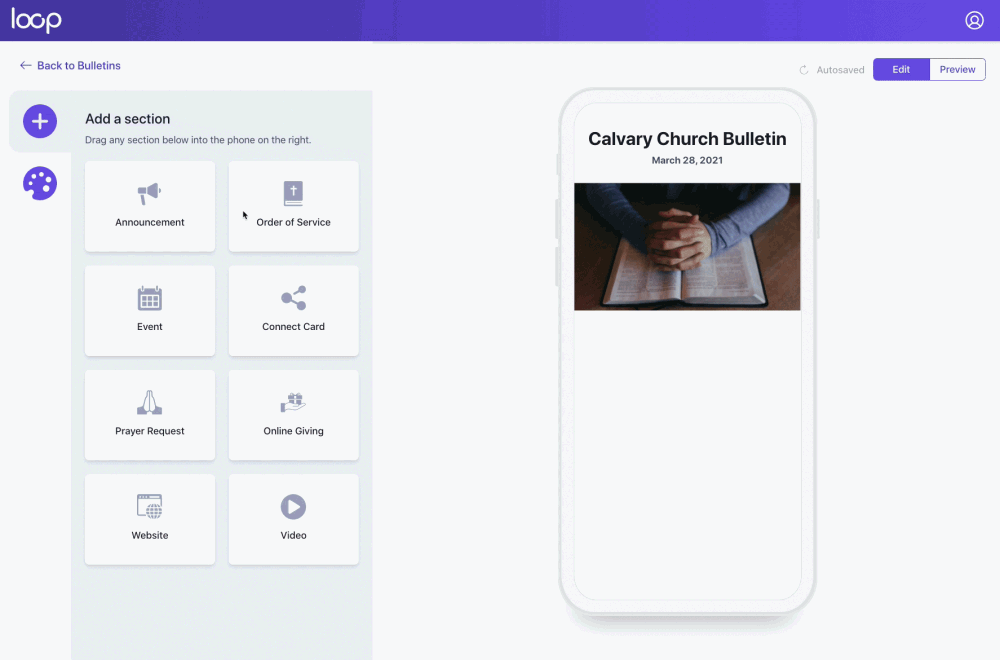 Editing
Create your church bulletin in 10 minutes!
With Loop, you simply drag and drop the sections you'd like to add to your church's bulletin. Then, using the pre-built templates you can quickly edit the details for each section to reflect what information you'd like to share that week. Edits are previewed in real time, so you'll always know what your changes look like before you publish your bulletin.
Start my free trial